Essential Guide How To Work With Clothing Manufacturer
Are you going to create your clothing brand and look for a way to work with a clothing manufacturer? By the values, the designer of a clothing brand must identify the clothing manufacturer you intend to work with. This supplier will be key in the choice of products and the development of your range. Therefore it is really important to choose a strong clothing manufacturer partner.
Creating a brand of clothing or fashion accessories, whatever the type (luxury, sportswear, streetwear, etc.), requires a great deal of knowledge, and in all cases very good preparation. Launching a line of clothing is not only based on creativity, marketing, tailoring techniques, but also sourcing, logistics, and even commercial development.
How to create a concept? How to produce these clothes? How to find out the material quality? This article will give you the ultimate guide to knowing how to work with a clothing manufacturer. 
How to work with clothing manufacturer
If you've selected a few clothing manufacturers, it's time to see how to work with them. In this section, you will learn how to create a tech pack, order product samples, and implement a quality assurance strategy.
Create your tech pack
Design drawing
Clothing design drawings demonstrate the final product you will be received. They give your supplier a solid point of reference for sample design. It is a place to present your ideas and wishes to your clothing manufacturers.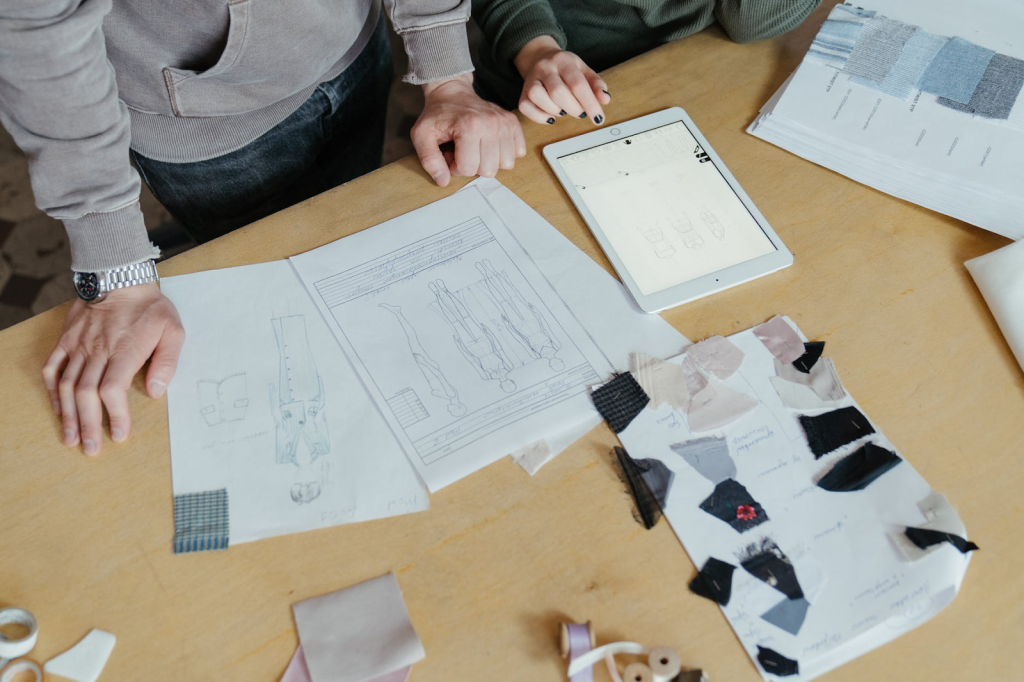 Sewing pattern
The sewing pattern is a pattern for a certain part of the garment, such as the sleeves and collars. It helps the supplier to cut the parts of the fabric to the correct shape and according to the dimensions set in your size chart.
Clothing labels
Clothing tags are not optional but required by law. Importing products without a textile label, or without sufficient information, may be sufficient reason for customs authorities to seize and destroy the products. Therefore, you must create the maintenance label file as part of your "tech pack", following the labelling requirements in force in your country or your market.
Note that each country or market has its labelling requirements, additional labelling requirements may apply to infant clothing and children's clothing. However, the following are generally required:
Fiber composition (for example 95% cotton, 2% spandex)
Maintenance symbols or written maintenance instructions
Made in-country
Bill of materials
The bill of materials is a list of materials and components used to make a single unit, such as a dress or a shirt. Besides, you must also specify the quantity or quantity of materials and components used.
Size chart
A size chart details clothing measurements and dimensions for each size (for example S-XL, 1-10, or 32-42). Each measurement is normally represented visually by a letter on the size chart. Note that there is no universal sizing system for clothing or even mandatory national standards.
You can select your size chart based on one among the subsequent ISO size standards below:
ISO 3635: 1981, Size designation and procedure of clothing for body measurement
ISO 3636: 1977, Size designation of clothing – Outerwear for men and boys
ISO 3637: 1977, Size designation of garments – Outer garments for women and girls
ISO 3638: 1977, Size designation of clothing – Infant clothing
Required clothing samples
Once you have all the technical documents, it's time to move on to sample production. The goal of this step is to test the supplier and confirm the materials if not already done. Around 50% of suppliers fail to make satisfactory samples. They may lack precision in getting the stitching together, delivering poor quality fabrics, or proving that they lack attention to detail.
That's why we recommend that you order clothing samples from at least two or three clothing manufacturers.
Sales agreement
Before paying any penny for the production of your shipment, your clothing manufacturer must enter into a sales contract. The main goal of such a contract is to prevent further disputes
First of all, we must avoid misunderstandings as much as possible. Thus, the sale and purchase contract must include product specifications, material specifications, designs, and colour samples. Do not hesitate to attach physical samples to contracts, have the supplier sign and stamp.
However, all of these precautions are in vain if you don't put pressure on the clothing manufacturer to comply with your expectations and sign the entire document. This can only be done if you tell the vendor that you will be checking on a third party for compliance. To verify compliance, you need a quality control plan. We will detail the process in the next section.
Payments are also important. If you pay the supplier in full, they will be under no obligation to rework or repair the defective items, in case the quality check fails. Therefore, payment of the final balance should be suspended until the quality of the items in the batch is verified.
Create clothing production manual
Now that you have a set of samples you like, it's time to place your first order. However, before making a deposit, you need to prepare a production manual. Here is the documentation listing all relevant ordering requirements and conditions:
Techpack attachment list
Compliance requirement
Shipping terms
Export packaging
Terms of payment
Quality control conditions
Terminology for laboratory testing
Trademark Terms of Use
The purpose of the manufacturing manual is to standardize the overall ordering process, which is why it should cover everything from packaging for export to terms of payment. The execution mechanism is based on a standard 30/70 payment plan. You only retain your influence as long as the supplier has not been paid in full. If you need to make the initial 30% deposit before production begins, the remaining 70% should be withheld until the following criteria are met:
Successful quality control
Textile lab tests passed
Quality control
Quality problems in the manufacturing process will certainly arise to varying levels. While quality problems cannot be eliminated, they can be managed and minimized to the point where it doesn't affect your profit margins.
Some faults can occur in the clothing manufacturing process. Here is a list of possible errors:
Poor stitching or embroidery (for example, threads that are not straight, loose)
Discolouration
Size is incorrect
Loose buttons and zippers
Dust and dirt
So quality inspection should be done in the factory, after production but before the balance payment. You cannot return defective units to your clothing manufacturers, so you only have one chance to make sure the products match your technology package.
Create a quality clothing checklist
Quality control follows a clearly defined checklist, which can be based on your checklist – or a standard checklist for clothing and textiles provided by the inspection. We strongly recommend that you write your checklist first and ask the regulator to add their standardized tests. The checklist should include:
Visual inspection
Measures
Sewing
Labels
Colour comparison
Packaging for export
Booking agencies of quality control
If you can come directly to check the quality of your shipment at the clothing manufacturer. All you need to do is create an account, write an email or make a phone call and provide the following information to quality agencies:
Technical package
Proforma invoice
Quality checklist
Name of supplier
Supplier contact details (name, email address, and telephone)
Supplier's address
Order a materials testing laboratory
Although existing test reports can be used to assess whether a supplier can manufacture or purchase suitable fabrics, the "old test report" cannot be applied to the new batch of garments. The only way to be sure is to ask a third party to do a compliance check.
Laboratory testing option
You can pre-order a laboratory test to verify compliance with a certain regulation or standard. You can also order tests to check only if the product contains specific substances, such as lead or formaldehyde.
REACH (Registration, Evaluation, Authorization, and Restriction of Chemicals)
OEKO TEX Standard 100
California Proposition 65
Heavy metals
Chemical products
Sample collection
Preferably, the quality inspector takes samples of the batches and submits them to the testing company. If possible, you should not allow the supplier to submit samples. For their benefit, there is a risk that clothing manufacturers will submit compliance samples (manufactured specifically to pass laboratory testing) – while your products are non-compliant.
Also, make sure they put the reservation/sample ID number on or inside the envelope. Otherwise, the testing company will not be able to identify the samples.
Test report
Once the test is completed, you will receive a test report telling you whether the products passed or failed. This test report can be used later to prove that your products comply with applicable safety standards and chemical regulations, such as REACH and CA Prop 65. Note that customs authorities, other government agencies, or Amazon may require you to provide a test report.
Clothes shipping from oversea
Air or sea freight?
Airfreight is both faster and more cost-effective for small shipments. Generally, we recommend air freight if the total cargo weight is less than 150kg. However, this is rarely the case when it comes to textiles. So sea ​​and rail freight is the best option to ship clothes or other textiles from overseas.
Damaged transport, such as broken cartons or mouldy items is common. If your goods are damaged, you can only be compensated if you purchased shipping insurance before the goods left the country of origin. Freight insurance is not included by default, so you should specifically tell your forwarder that the shipment needs to be covered – from when they pick it up at the clothing manufacturer to the last place of delivery.
Textile import license
You normally do not need a license or import permit when purchasing clothing and textile products. However, customs may require you to provide a certificate from the country of origin. This can be issued by your supplier or your freight forwarder.