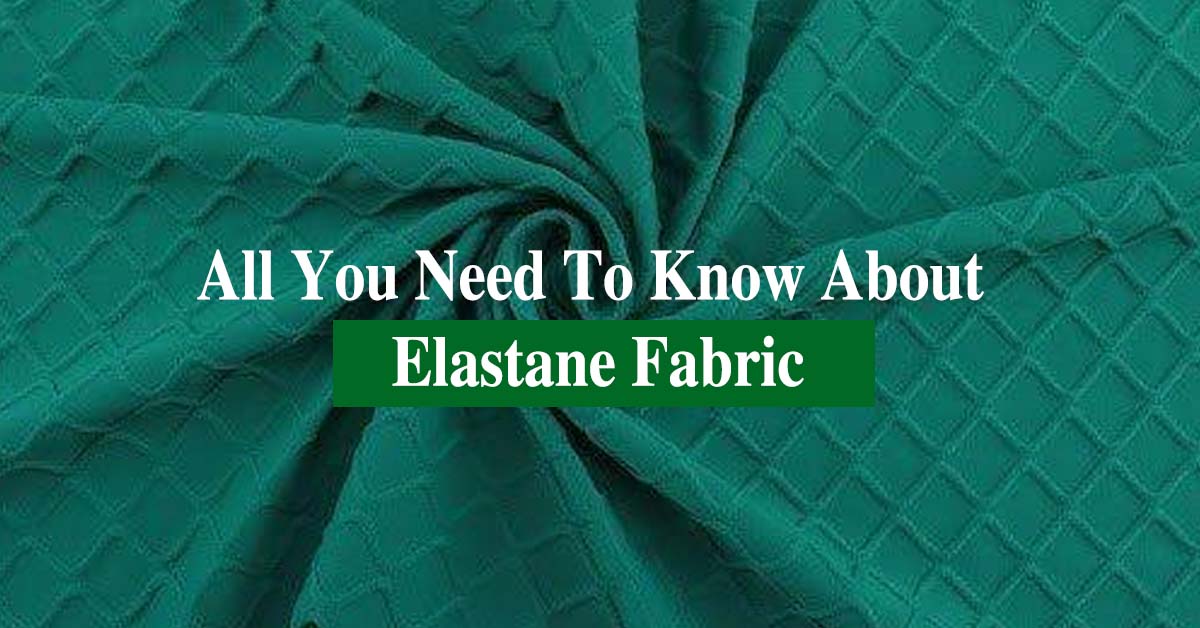 All You Need To Know About Elastane Fabric: Overview, Characteristics, Type And Use
You may have seen the term "Elastane fabric" at least once when reading garment components on your clothing. If you are curious about this material, let's find the answer here.
Overview of Elastane fabric
Definition
Elastane, also called Spandex or Lycra, is a type of synthetic fabric made of at least 85% polyurethane. Like several other fibers that are composed of polyurethane, Elastane fabric is extremely light and elastic. The fiber can be regarded as an alternative to rubber, and it is proven that Elastane-made clothes can be stretched up to 5-8 times compared to their normal size.
Due to the excellent elasticity, Elastane fabric has quickly become viral across the world, and its popularity has never been decreased ever since being introduced. This material is found in so many types of clothing that the majority of consumers would possess at least one Elastane item in their wardrobe. Despite some environmental impacts, it seems that the use of Elastane fabric could not be resisted or replaced in the foreseeable future due to several outstanding features.
Differences between Elastane, Spandex, and Lycra
In terms of meaning, the answer is no. However, these 3 names have their different origins. Lycra, compared to Elastane, has no differences except for the name. This way of calling is common in Ireland, Spain, Brazil, Argentina, Australia, and some other regions.
The name "Spandex" is widely used in Northern America, while in Europe people use "elastane" and its variants such as élasthanne, elastan, elastano, elastam, or elastaan. However, regarding the chemical aspect, "Elastane" is the most proper way to address the fabric.
Elastane fabric Characteristics: Pros and Cons
Advantages
Stretchiness & Elasticity
This is the most outstanding feature of Elastane fabric. The resilience of elastane-made clothing is proven to be approximately 500% compared to the original size. This characteristic allows you to have a great experience with freedom of movement, motion without worrying about shape or crease.
Durability
Thanks to its elasticity, Elastane fabric could remain in its original form and shape no matter how tough your motion is. Besides, the proven heatproof characteristic of the material allows it to be crease-resistant, remaining neat and smooth for a long time. Elastane fabric is also color-persistent, which enables the material to endure sunlight, saltwater, or other external elements.
Other benefits
Elastane fabric also has several good points such as:
Lightwear and soft, have a smooth surface.
Stain-resistant, the dirt can be washed quickly just by rinsing underwater.
Easy to care for, can be washed easily and no iron required.
Easy to dye
Disadvantages
As there is nothing perfect, Elastane fabric also has some drawbacks:
Not a great moisture-absorbent material.
Can be deteriorated with bleach.
Difficult to recycle once it is worn out, therefore causing some environmental impacts.
There are some other uncommon shortcomings such as poor thermal insulation ability or causing allergies. However, there is no need to worry about these minuses because clothing is normally composed of different components besides Elastane. By mixing different types of fibers in suitable proportions, manufacturers could eliminate such disadvantages and increase product quality with combined advantageous characteristics of various fabrics.
Common types of Elastane fabric
As mentioned above, pure Elastane fibers are not normally used in clothing manufacture. Instead, the material is frequently mixed with other fibers to create garment-used textiles. Here are some of the most common Elastane mixed fabrics.
Elastane Nylon & Polyester elastane
Since the early days of developing Elastane fibers, its heat-resistance characteristic has been recognized. For that reason, Elastane is a perfect match for Polyester and Nylon, as it can make up for the drawback of these two fabrics in heatproof and crease-resistance.
Clothing made of Elastane Nylon has all the advantages of both textiles, including light wear, smooth and shiny surface, or elasticity. In terms of feeling, this combination would bring about a comfortable experience such as softness, smoothness, and coolness. Nylon Elastane clothing is also easy to wear and easy to care for. Due to the shiny surface, its lightness, and crease-resistant, the material is common for formal clothes and fashion wear.
Elastane cotton
This combination of Elastane and cotton fibers would offer you various benefits such as elasticity, moisture-absorbance, softness, and light wear. Elastane cotton is also an easy-care product because it inherited the stain-resistance characteristic of Elastane fabric. For that reason, you do not need to worry about dirt, and could enjoy the best of all the activities. Having such features, Elastane cotton fabric is common in activewear and casual wear.
Rayon Elastane (Modal fabric)
Like other blended fabrics, Rayon Elastane inherits different characteristics of both components. This material is lightweight, wrinkle-resistant, and resilient just like Elastane fabric. Normally, Rayon Elastane would have a 4-way stretch with excellent shape retention. Besides, it offers the feeling of softness, coolness, breathability, and pleasant flexibility for wearers. Therefore, this fabric is often used to produce underwear, casual wear, and activewear.
However, Rayon Elastane is not as easy-care as other types of Elastane blended fabrics. As its heat-resistance feature is not extremely excellent, the fabric may get a little bit fuzzy if being laundered improperly or put into the dryer. As long as you don't put your Rayon Elastane clothes under intense heat, they could last for quite a long time.
What are the uses of Elastane fabric?
Elastane blended fabric is used to produce various clothing products nowadays, including activewear, casual wear, fashion items & accessories, formal clothes, and so on. The material is almost indispensable in manufacturing activewear and casual garments, due to its unreplaceable characteristics of stretchiness, durability, light, soft and the ability to resist various external factors.
Activewear
Elastane is perfect for activewear as it fits your body so that nothing would be tangled in during your exercise or activities. It also allows you to have a wide range of motion and free to move thanks to the elasticity.
Professional athletic wear
Professional athletic attires are designed specifically for sports performance.
Normal activewear
Activewear is not only worn by professional players but can also be used in daily activities like exercise, workout, jogging, and other sports.
Casual wear
Casual clothing is an essential item for everyone. Because this type of clothes is worn daily in several contexts and situations, it could probably account for half of our wardrobe.
Underwear
Underwear is an important item. As this type of clothes would directly touch your skin, there are tons of requirements and standards for underwear manufacture. Underwear is supposed to be at least soft, smooth, airy & breathable, stretchy, and quick-dry, and these characteristics could be found in Elastane fabric.
Pants & tops
Casual pants and tops made of Elastane fabric could be both comfortably worn in-door at home and creating a dynamic, active out-door look. Skinny jeans, shorts, leggings mixing with T-shirts, tank tops or Croptop is an easy-to-wear set that would never be old-fashioned.
Other casual wear
There are other types of clothes that can be made of Elastane like outer, home-wear, or workwear.