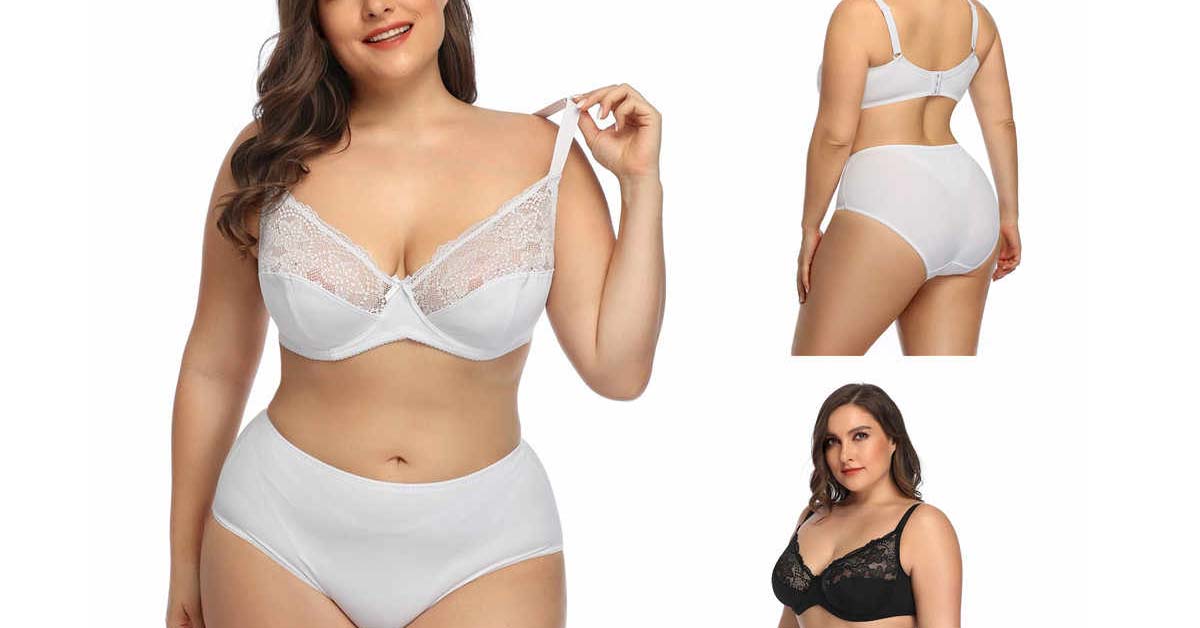 Shop plus size bras and panties – find your perfect fit
Plus Size Bras
Our wide selection of frames, materials, styles, and sizes means that we've got the perfect bra for you. Opt for one of our plus size full coverage bras, perfect for everyday wear or try our plus size no-wire bras for incredible comfort and full support without the pinching or poking. To learn more about your correct size, check out our how to measure bra size guide for more information.
FOLLOW THESE THREE BRA FITTING STEPS.
1. Measure your band. Wear a lightly lined (non-push-up) bra so your breasts are as close to natural as possible. Wrap a measuring tape directly under your breasts. Make sure it's directly parallel with the bottom of the bra band.
2. Now measure your bust. Place the tape at the fullest part of your bust. Make sure it's parallel to your band again.
3. Subtract the band size from your bust size to find the right cup size. Every inch equals one cup size up. Check our chart below.
| | |
| --- | --- |
| difference | cup size |
| 1″ | A cup |
| 2″ | B cup |
| 3″ | C cup |
| 4″ | D cup |
| 5″ | DD cup |
| 6″ | DDD cup |
| | |
| --- | --- |
| difference | cup size |
| 7″ | F cup |
| 8″ | G cup |
| 9″ | H cup |
| 10″ | I cup |
| 11″ | J cup |
| 12″ | K cup |
ANATOMY OF A BRA
We started from scratch, studied individual shapes, tested and fine-tuned and totally reimagined what a bra could (and should) do. The result? All new elements, made specifically for your body.
Plus Size Panties
From bikini cut to plus size boyshorts to thongs, you'll love your panties. With cotton, lace, extra-soft and more, we have bottoms for plus sizes in every shape, that will fit right and complement all your curves. We have your everyday staples like cotton hipsters and no-show thongs to sexy plus size lace panties for any occasion – all in sizes 0-28.
Understanding how a soft, smooth, & breathable a plus size panty can bring to women, we use high-quality fabric to specially create this design.
Cotton keeps the wearer chafe-free and comfortable, so these plus size panties can be worn all day. Furthermore, we add spandex to create stretching and durability.
Product Specifications:
Fabric: 95% Cotton + 5% Spandex or any other fabrics as per customer's requirement
Color/Print: Any color or print can be developed as required
Sizes: full range
Machine washable
Made in Vietnam
HOW TO MEASURE YOUR PANTIES SIZE
Panties Fit Guide
Step 1: Measure waist size
Measure your waist by placing the tape measure around the natural indentation or break in your waist. If you need help locating this indentation, bend to the side; the crease will be the location of your waist.
Step 2: Measure hip size
Next, measure the fullest part of your hips, making sure the tape measure remains parallel to the floor. This is your hip measurement.
Step 3: Find your panties size
Now that you know your two measurements, consult the chart below to determine your proper underpants size. If your measurements represent two different panties sizes, choose the larger of the two sizes.
X-Small
Size
Waist
Hip
0
24″
34.5″
2
25″
35.5″
Various designs of sexiest and the most fashionable plus size bras and panties can be found here. An OEM service is available for you to develop and manufacture your own design. Remember that there is no limit of fabric as we also possess a fabric factory beside our ISO certificated garment factory. Check around these following styles and let us contact us for instant support.