Regular sleeve
If you are thinking of short-sleeved t-shirts, that's right! This versatile and timeless type of sleeve is most popular for both genders. Their lengths extend to the elbow or just above the elbow. We can wear these sleeves in any kind of weather, and combine them with any kind of clothing, from the perfect jeans to sneakers for a super sporty look.
Raglan sleeve/ Baseball style sleeve
Instead of ending at the shoulder, this type of sleeve extends to the neckline with a completely different color from the rest of the shirt. The original version of this kind of shirt is a white shirt combined with a three-quarter length sleeve in some basic color such as red, blue, or black. Fortunately, designers nowadays give the public a lot more choice with different sleeve lengths and various color combination options. Easy to mix and match, this sleeve became a huge fashion trend in 2017.
Cap sleeve
People name this type of sleeve "Cap Sleeve" maybe because of its small lengths. It looks like a small umbrella, or "cap", extending over the shoulder. Thanks to this small "umbrella", your shoulder can be concealed and your arms are delicately shown off. However, it may not flatter those with large upper arms. Women wear cap sleeves as both a t-shirt and a layering shirt, paired with simple blue jeans. Thanks to their comfort and simplicity, cap sleeve shirts become a staple piece in every girl's wardrobes.  
Lantern sleeve
This classic sleeve is an ideal garment with vintage design features for covering the flabby upper arms. A long, gathered sleeve that balloons out between the elbow and the wrist is called a lantern sleeve. Sleeves' lengths are often developed at various lengths and fullness. This top also helps flatter your shape by drawing attention to narrow, delicate wrists.
Leg of mutton
This is similar to Juliet's sleeve. Juliet's sleeve is the revised version. This is one of the puffed sleeves that dominated the fashion industry since the Victorian era and never truly left the trends circle. The leg of the mutton sleeve (also known as the gigot sleeve) is designed with a voluminous fabric at the top upper arm then tightly fitted from elbow to wrist, which brings the dress a classy look and creates an hourglass silhouette.
Bell sleeve
The Bell sleeve top is exactly the first thing you think of when looking for something easy to wear. This sleeve was the typical type of woman's dress back to the years 1530-55. It can be either long or short, end somewhere from elbow to the wrist, and flares toward the bottom, which provides an eye-catching and feminine look. 
Bishop sleeve
This is a long sleeve that starts narrow at the top of the upper arm, gets fuller towards the bottom, then gathered with a button cuff around the wrist, which brings you a classic look, but never boring. They work well with different blouses and dress styles. Moreover, they can add a degree of femininity by changing the dress material. Chiffon, sheer lace, or even transparent silk fabrics are the ideal material for this sleeve type. Bishop sleeve tops became a favorite item of women's office clothing thanks to the security of the tight cuff design.
Dolman sleeve
Dolman sleeve is considered to be one of the most fashionable choices women could make. One special thing about this sleeve is a low armscye, which may extend towards the wrist. Dolman sleeves work for many different body shapes, especially the one who is insecure about their waist because this style would make their waist look much smaller. You can try a Dolman sleeve boat neck sweater with dark blue skinny jeans and brown leather knee-high boots to complete an amazing look.
A short and puffed, or long and full sleeve with a wide neck is called a peasant sleeve. The short and puffed sleeve is a summer go-to due to its cool and comfortable feature, however, it is kind of inappropriate for working place. This sleeve is perfect for showing off shoulders and revealing the shape of the body underneath thanks to its softness. You can balance out your outfit with a more stylish kind of shoes, such as a pair of leather ankle boots.
¾ Sleeve
This sleeve is absolutely a must-have item in your wardrobe. It is suitable for any formal occasion but fashionable and comfortable as well. ¾ sleeve tops also can be worn in any kind of weather and help people perform everyday tasks comfortably thanks to their appropriate length. You can choose sleeves in sheer fabric for a more gentle look or go for thicker garments for a formal style.
Long Fitted Sleeve
Long fitted sleeves are cut long in the body with a straight hem, and if you have a slim fit body, this is that flattering garment you have been looking for. It can pair nicely with any item of clothing in your closet, from your favorite shorts and sneakers to your office essentials. You may try to slip into a pair of black high heels to introduce some extra flair to this getup.
Petal sleeve (lapped sleeve); Tulip sleeve
This type of sleeve was named due to its specific shape: it has two sections that overlap in the middle and form the petals of a tulip. This type of sleeve is designed for short sleeves but nowadays you can easily find a longer one if you want. You can simply style it by wearing blue skinny jeans and high heels to finish this amazing outfit.
Puff sleeve
The Puff sleeve stands out from the arm and shoulder at the top to create a puffy effect. It adds volume and draws attention to your shoulders, and gives the illusion of a smaller waist, which makes it become a great addition to your closet. You can fresh up your look by pairing it with shorts, jeans, pants, midi skirts, or mini skirts. Or one of the easiest ways to wear this type of sleeve is by way of a shirt tucked into jeans.
Batwing sleeve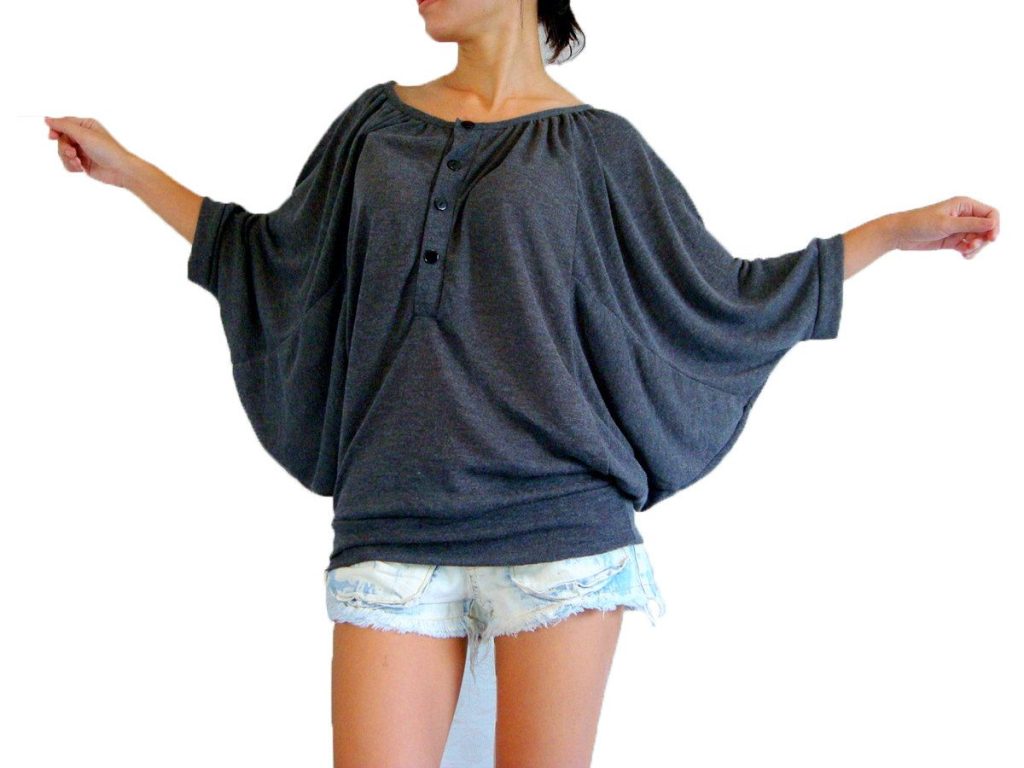 If you are thinking of the sleeve that Batman wears as his uniform, then absolutely no. This sleeve is characterized by a deep armhole that extends towards the wrist that brings an interesting and breezy look. You may feel self-conscious about showing off your arms, then this top would be a wonderful choice for you. The Batwing sleeve works well with many styles and even on its own with a belt at the natural waist.
Off-shoulder sleeve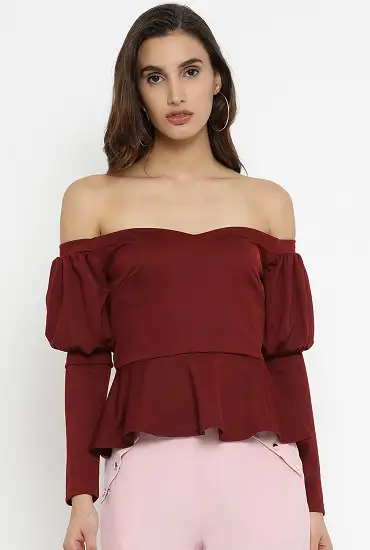 This style shows off the perfect amount of skin, and by leaving both shoulders and neckline uncovered, it becomes increasingly popular when summer comes. It is not only flattering different body shapes but also can deal with most problem areas. You can consider taking your hair up in a ponytail to show off the detail of the bare shoulders or wear a thin black choker for a chic, sexy and modern vibe.
Cold-shouldered sleeve
This special sleeve has an elegant cut-out at the top of the upper arms, which show off skin in a fashionable, acceptable manner to create a slimming effect. It has been a huge hit for those who are searching for a way to look hip and current without having to show off a bare shoulder. This style is perfect for both hot or cool weather.