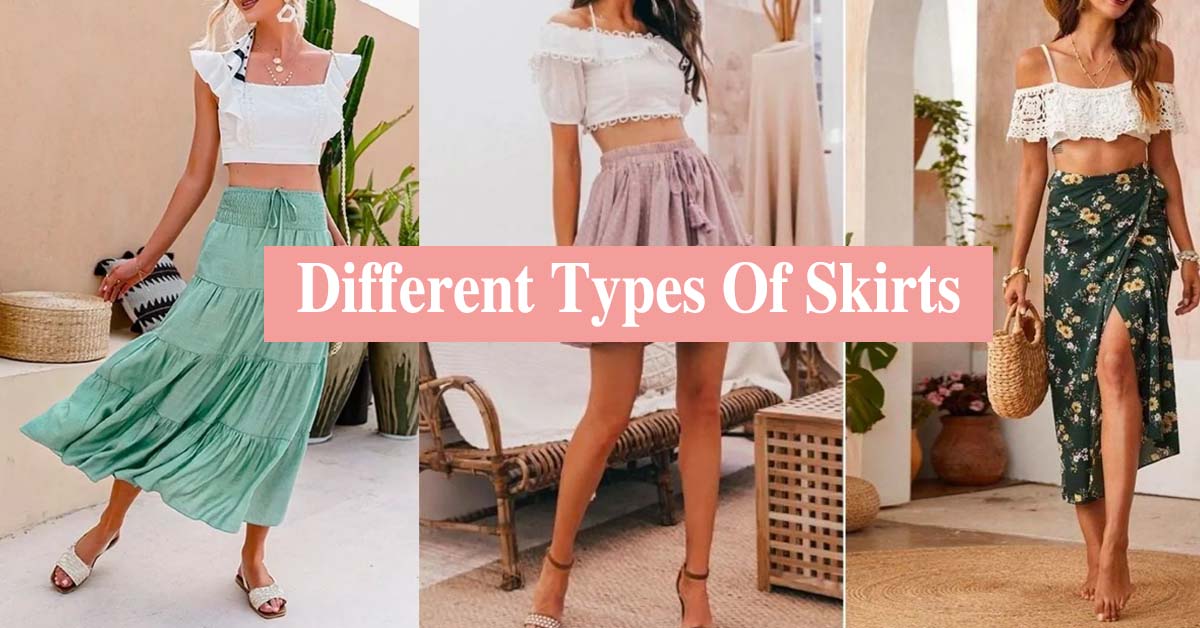 22 Different Types Of Skirts For Women To Choose From
To emphasize the woman's beauty, many different types of skirts have been designed with different styles, colors, and patterns. Therefore, understanding your body shape will help you choose a dress that matches your figures and complement your style. Learning more about different skirt silhouettes in this article.
[toc]
A line skirt
The A line skirt is one of the most basic types of skirts that every girl once fell in love with. This skirt usually has a slight flare and forms a triangular shape when laid flat. The waistband of the A line skirts are often fitted at the waist of the wearer, and can be high, lower, or elasticized. Women with pear-shaped figures will look great in this fashion item.
Pencil skirt
The pencil skirt is the perfect skirt for any formal occasion, so this type of skirt is loved by many women who work in offices. This is a form-fitting skirt from the waist to the hips of a woman. Often made of stretchy fabric that holds your figures closely, this skirt is perfect for every body shape.
Gathered skirt / Full skirt
Also known as the bouffant skirt, the full skirt is just a simple skirt that gathered at the waistline. To make this dress, a straight piece of fabric is put together with an elastic waistband or a plain fitted waistband. There are also many types of full skirts, such as a bell skirt, a hoop skirt, or a prairie skirt. If you want to be glamorous as a party princess, then this is the fashion item for you.
Mini Skirt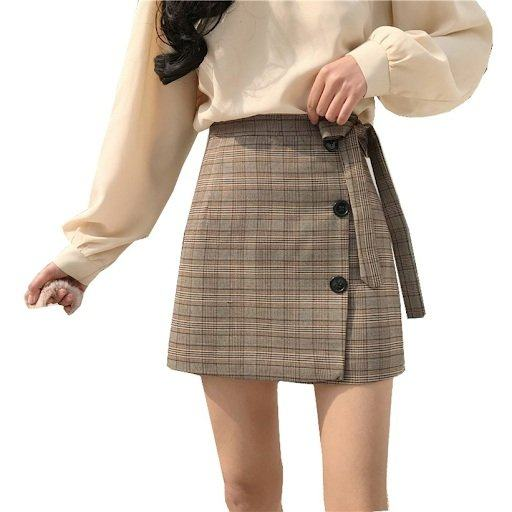 Miniskirt is the dress that many girls who love a youthful style choose as the most needed item in their wardrobe. Mini skirts are typically 10 to 17 inches long, and most of them are mid-thigh in length. The micro mini skirt is even shorter.
Miniskirts are very handy because they look great with everything. You can find many types of miniskirts with different colors, materials, and designs. For example, if you like a dynamic style, a denim mini skirt combined with a graphic tee will be an ideal choice.
Flared skirt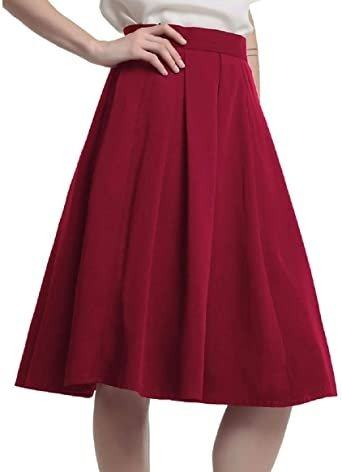 Flared skirts are items that can be worn for any occasion, and they never go out of fashion. The flare skirts come in mini, midi, and maxi lengths, allowing for complete freedom of movement. Whether slightly flared or very flared, smooth or pleated, this type of skirt looks flattering on any figures.
The flared skirt can conceal the problems on your hips and thighs. As the focal point of a flared skirt is the waist, figure-flattering blouses and tops are the ideal choices.
Draped Skirt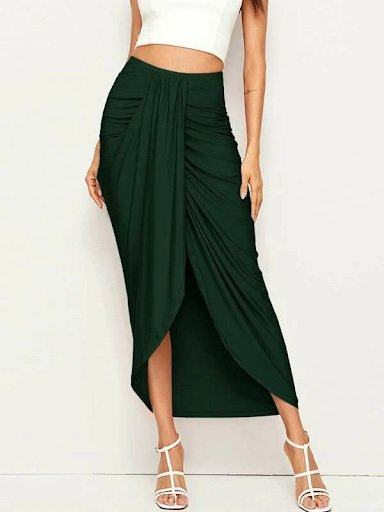 A draped skirt is the type of skirt that has fullness gathered or draped on one side. This skirt is also known as the Sarong draped skirt, as the Sarong is a square piece of fabric wrapped around a woman's hips to form a skirt. The draped skirt gives you a feminine, yet formal look every time you need to get dressed up.
Layered skirt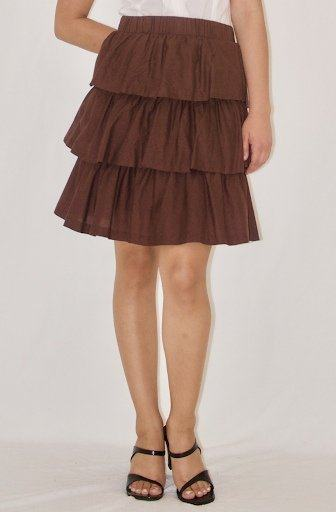 With the layers of ruffled fabric arranged on top of one another, the layered skirt is one of the most feminine and flattering skirts. Women of all ages can find a layered skirt for themselves because this type of skirt comes in all different lengths, colors, and sizes.
Circle skirt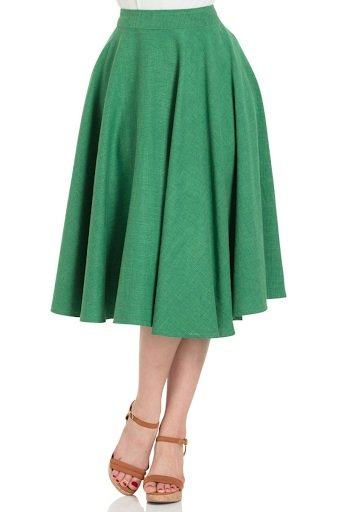 The name of the circle skirt comes from its shape of fabric when the tailor makes this item. It is often cut from half or full circular pieces of fabric. It is a flowy skirt that looks great with many types of tops. You can pair the circle skirt with a button-down shirt, a crop top, or a long sleeve blouse.
Gored skirt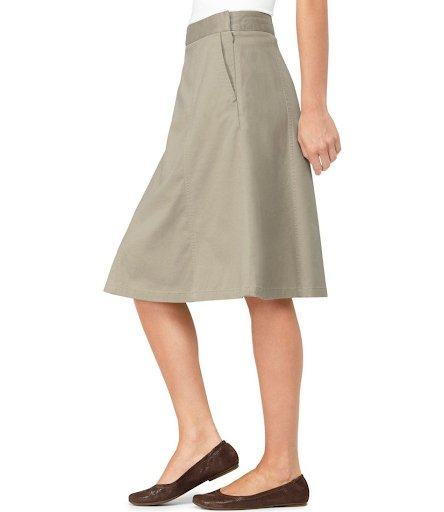 The gored skirt is a mix between the A line skirt and the flare skirt. This type of skirt is made of triangular pieces of fabric, which are also called "gores". These pieces of fabric are smaller at the top of the waist and wider toward the bottom of the hemline. This design gives fullness to the A line silhouette and allows for ease of movement while walking.
Godet skirt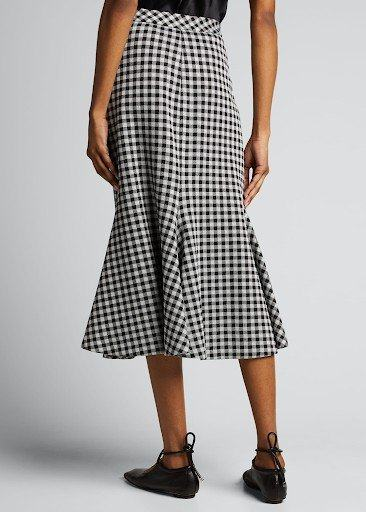 A godet is a triangular or pie-shaped piece of fabric that is sewn to the body of the skirt to give some volume. That is the reason why the godet skirt often has a flowy bottom, giving the wearer a wider range of motion while wearing this type of skirt. The godet skirt can be made from many types of fabric, from elegant materials such as lace, silk to denim,…
Trumpet skirt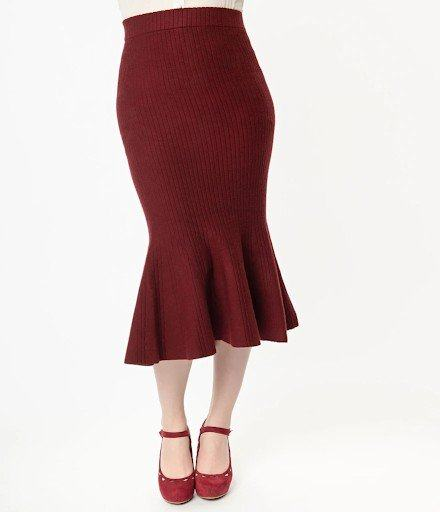 The trumpet is fitted around the hips and waist with a flared hem and this type of skirt is a popular look for bridal gowns. Been around since the Victorian era, the trumpet skirt is still loved by many women today because of its classic look. If you have a more curvy shape, you can boldly wear this type of skirt, as long as it is knee-length. But if you are a petite woman, try to wear trumpet skirts that are mid-thigh length to look more modern and fashionable.
Wrap skirt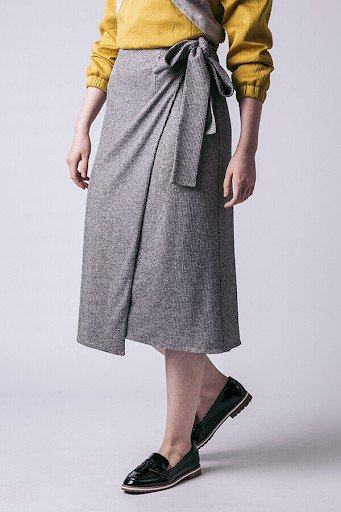 Wrap skirts are always elegant and are perfect for a formal dinner or a night out. The wrap skirt – just like its name, almost looks like a piece of fabric wrap around your hips, and it is tied or fastened at the waist. This is one of the most versatile types of skirts, as it can be paired with a range of tops. For example, match them with your favorite tee for a relaxed look, or wear them with a jumper in winter. Moreover, you can wear the wrap skirt all-year-round, because they come in many different lengths and hemlines.
Divided skirt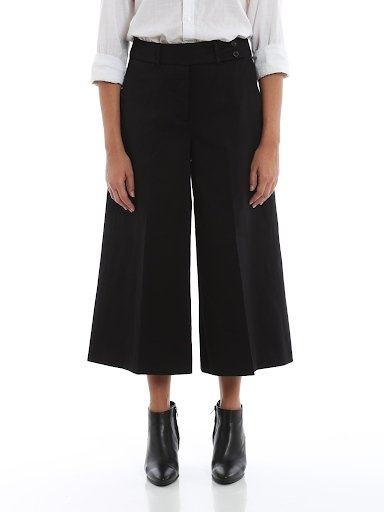 If you are looking for a girly skirt, but love the comfortable feeling of wearing pants, then a divided skirt is just the item for you. This type of skirt for women looks like a normal flared skirt, but it actually has two legs like your culottes or shorts. Try matching them with a printed T-shirt for a youthful style, or stay formal with a shirt or blouse.
Pleated skirt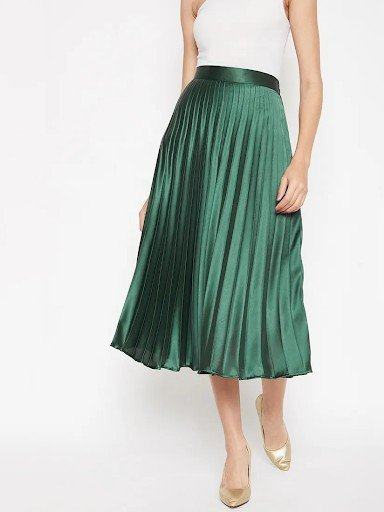 A pleated skirt often has pleats arranged around the waistband, and they can be mini or maxi. There are many different types of pleated skirts, such as box pleated skirts, inverted pleated skirts, knife-pleated skirts,… The effect of this skirt depends on the width and size of the pleats, but they are all flattering on many types of body figures. In the summer, try knife-pleated skirts in pastel and neutral shades. You can also get yourself long pleated skirts that look effortlessly chic when matched with knitted cardigans and boots.
Asymmetrical Hem skirt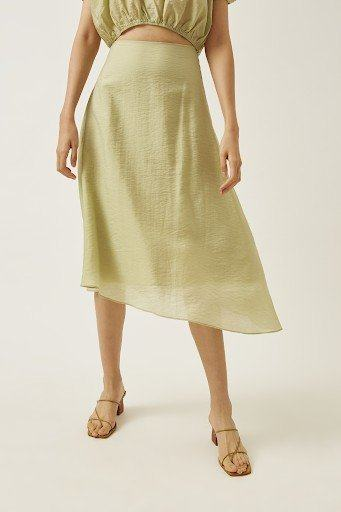 Thanks to the asymmetrical lines by the fabric cuts and different levels on the hem, an asymmetrical hem skirt often gives the wearer a unique and modern look. The hem cut is usually diagonal across the body, with one side longer than the other. These skirts can be flared, tight, or come with a godet. You will definitely become the most outstanding woman at every party wearing this dress.
Bubble skirt
While regular dresses have straight hems, bubble skirts have hem gathered with an elastic casing, giving it a puffy silhouette. Short bubble skirts are the most preferred option, as longer bubble skirts have a greater flare, and may not be suitable for everyday wear.
Yoke skirt
Yoke skirt consists of two parts: the yoke part on the waistband and the skirt on the bottom. The yoke comes in many types, from triangular, circular to asymmetrical. Also known as the hip hugger, the yoke fits around the hips, helping the wearer to shape her figure. The flared skirt at the bottom combined with the waistband also makes you look slimmer at the waist and fuller on the hips and thighs.
Handkerchief skirt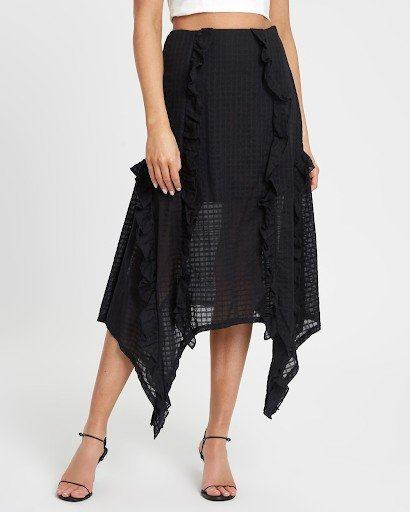 The handkerchief skirt is also an asymmetrical skirt, but instead of having a diagonal hem, the handkerchief skirt is shaped like a handkerchief held in the middle, so that the corners of the scarf fall down. To make this type of dress, tailors usually cut the fabric into a triangle or square shape. Soft fabrics such as chiffon, cotton, and silk are often used to sew this dress so that the dress is flowy and the points do not stick out too much.
High low skirt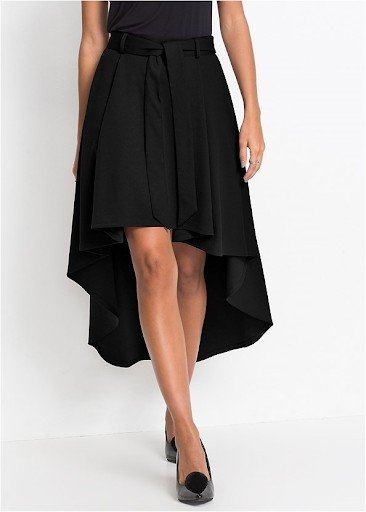 The high low skirt has the front part higher than the back, creating a high low effect. As this design gives the dress movement and elegance, this type of skirt for women is usually made of soft flowy fabrics. Depending on the skirts, the difference between the front and the back can vary. Some skirts may even have a train draping out from behind the body.
Tulip Skirt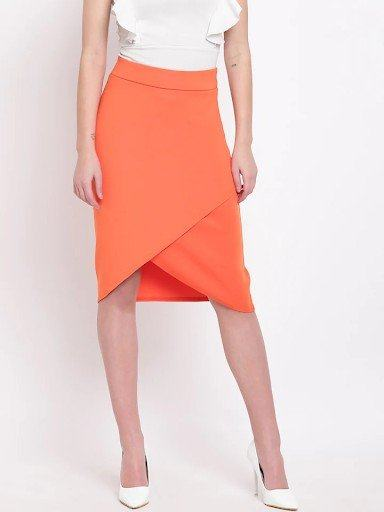 The tulip skirt is a type of straight skirt, but instead of having a normal hem, this type of skirt has an irregular hem edge, based on the appearance of a tulip. To pick up the overlapped details, the edges are often bound in bias tape.
Cowl Skirt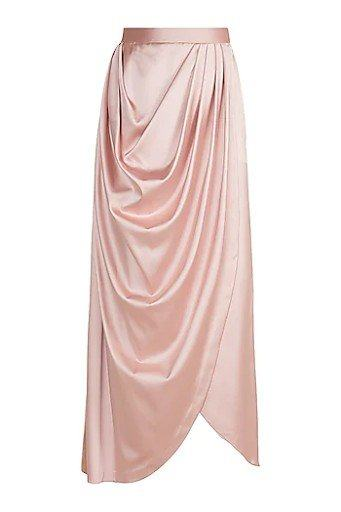 If other types of skirts often focus on the hem to create some highlights, the cowl skirt has a different design on the waistband. By adding extra fullness to this area, the skirt becomes more puffy and elegant. This dress is very suitable for women who love a mature style. The Cowl skirt also makes your hips look more attractive, and creates an illusion that your legs are long and slim.
High waisted skirt
High waisted skirt often has a waistband that is above the belly button, and the main feature of the skirt is attached to this band. The waistband can be made with an elastic or flat band. Because of this, this type of skirt looks really flattering on those who want to hide their belly.
High waisted skirts are best worn with tucked-in fitted shirts to create a flattering silhouette.